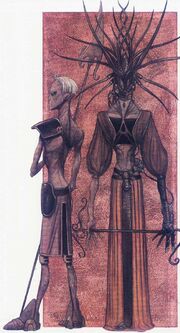 Physiology
Edit
Slim and slender and with an average height of 1.60m Fraal cause awe to almost all humans.
Psychology
Edit
Fraal are
All fraal are Telepaths and most of them also have a range of other psionic abilities
The Fraal is a race of intelligent lifeforms that originate from a world uknown to both themselves and anybody else.
The legend has it that there was a great exodus and that 7 huge motherships were launhed in deep space in search of a new world to call their own.
Fraals receive Will x 2 psionic points